As an Amazon Associate, I earn from qualifying purchases
Goth Home Decor is a style characterized by dark colors, ornate details, and macabre elements. This article explores the trends, inspiration, and tips for incorporating Gothic aesthetics into your home.
Goth Home Decor is a style known for its dark colors, ornate details, and macabre elements. Interested in adding a touch of darkness to your living space? We will delve into the world of Goth Home Decor, exploring the latest trends and offering inspiration and tips for incorporating Gothic aesthetics into your home.
Whether you're a longtime enthusiast of the Gothic subculture or simply looking to infuse a sense of drama and mystery into your living spaces, this guide will provide you with the information you need to create a hauntingly beautiful space that reflects your unique personality.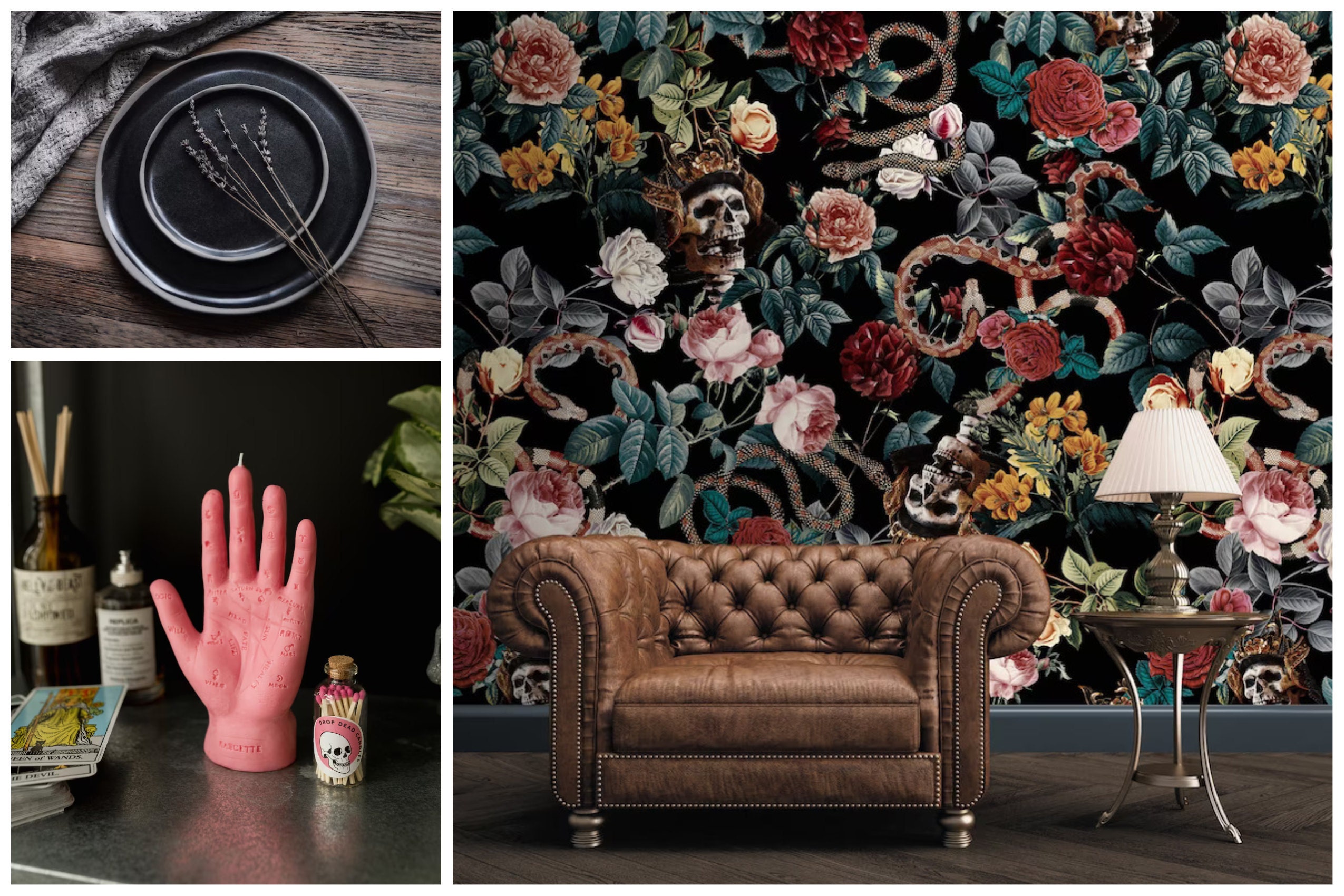 Credit: www.etsy.com
Unveiling Gothic Influences
Gothic home decor is a captivating style that brings a sense of mystery, elegance, and theatricality to any living space. With its dark color palette, ornate details, and romantic ambiance, this style offers a unique blend of beauty and darkness. Unveiling the influences behind gothic home decor allows us to understand the rich history and symbolism that make it so captivating. From the intricate symbolism in gothic architecture to the influence of gothic literature on home decor, and the touch of nostalgia found in Romanticism and Victoriana, each aspect contributes to the allure of this fascinating style.
Intricate Symbolism in Gothic Architecture
Gothic architecture is a significant influence on gothic home decor, as it embodies the aesthetic principles and symbolism of the style. The structural elements, such as pointed arches, ribbed vaults, and flying buttresses, create a sense of height and grandeur, evoking a feeling of awe and mystery. These architectural features symbolize strength, spirituality, and a connection to the divine. The intricate detailing, including gargoyles, stained glass windows, and stone carvings, adds further depth and symbolism to gothic design.
Influence of Gothic Literature on Home Decor
Gothic literature has had a profound impact on gothic home decor, as it explores themes of darkness, horror, and the supernatural. From classic novels like Mary Shelley's "Frankenstein" to Edgar Allan Poe's haunting tales, gothic literature has inspired a love for all things macabre and mysterious. In gothic home decor, this influence can be seen through the use of dark colors, rich textures, and gothic motifs such as skulls, bats, spiders, and cobwebs. These elements create a sense of drama and intrigue, transporting your living space into a world of Gothic fiction.
Romanticism and Victoriana: A Touch of Nostalgia
Romanticism and Victoriana also play a significant role in gothic home decor, adding a touch of nostalgia and historical charm. Romanticism, with its emphasis on intense emotion, nature, and the sublime, infuses gothic interiors with a sense of passion and introspection. Victoriana, on the other hand, draws inspiration from the ornate and opulent designs of the Victorian era. This includes luxurious fabrics such as velvet and lace, antique furniture, chandeliers, and elaborate wall coverings. By incorporating these elements, gothic home decor creates a space that pays homage to the past while embracing a darkly romantic aesthetic.
In conclusion, gothic home decor is an enchanting style that reflects the intricate symbolism of gothic architecture, the haunting themes of gothic literature, and the nostalgic charm of Romanticism and Victoriana. By unveiling these gothic influences, we can appreciate the artistry and depth that goes into creating a truly captivating living space.
Setting The Mood: Colours, Textures, And Materials
Setting the Mood: Colours, Textures, and Materials
When it comes to goth home decor, creating the perfect atmosphere is key. Embracing deep and dramatic hues, luxurious textures like velvet and lace, and incorporating metal and leather accents are essential elements in bringing the dark and captivating aesthetics of goth into your home. In this post, we'll dive into these key aspects and explore how they set the mood for a truly gothic home.
Embracing Deep and Dramatic Hues
One of the defining features of goth home decor is the use of rich and intense colors. Dark, moody hues such as black, deep purple, burgundy, and navy blue contribute to the ethereal and mysterious ambiance of a gothic home. These colors are often used on walls, furniture, and accessories to create a sense of drama and sophistication.
When choosing the perfect color palette for your gothic abode, consider the following:
Black: The staple color of goth, black adds an air of elegance and mystique. Use it as a base color for walls or incorporate it through furniture and accessories.
Deep Purple: Symbolizing power and luxury, deep purple creates a regal and opulent atmosphere. Use it sparingly as an accent color or in larger doses for a bolder statement.
Burgundy: A rich and romantic shade, burgundy adds warmth and depth to any space. Combine it with gold accents for a luxurious touch.
Navy Blue: Classic and timeless, navy blue brings a sense of depth and sophistication. Pair it with metallic elements for a modern gothic look.
Velvet and Lace: Luxurious Textures for the Modern Goth
Texture plays a crucial role in goth home decor, creating a sense of tactile opulence. Velvet and lace are two iconic materials that add a touch of luxury and romance to any gothic interior.
Velvet, with its plush and tactile nature, instantly elevates the look and feel of a space. Incorporate velvet through upholstered furniture, drapes, or even throw pillows for a lavish and indulgent touch. Black, deep red, or purple velvet are popular choices that exude gothic allure.
Lace, on the other hand, brings an element of delicate beauty and intricate detailing. Wrap lace curtains around windows or use lace table runners and doilies to add a touch of femininity and vintage charm to your gothic interior. Black or white lace can create stunning contrasts against dark-colored surfaces.
Incorporating Metal and Leather Accents
Metal and leather accents are essential for adding an edgy and industrial twist to goth home decor. These materials bring a sense of toughness and durability while complementing the dark and romantic aesthetic.
Metal accents, such as wrought iron, brass, or copper, can be incorporated through light fixtures, decorative accessories, or furniture. Whether it's a chandelier with ornate metalwork or candleholders with a distressed finish, these pieces add a touch of gothic elegance and create a striking visual impact.
Leather, with its rugged and weathered appearance, adds a sense of ruggedness and masculinity to gothic interiors. Incorporate leather through furniture upholstery, cushions, or even wall coverings for a touch of raw beauty. Black leather is a timeless choice, but deep burgundy or brown leather can also add warmth and richness to your space.
By embracing deep and dramatic hues, luxurious textures like velvet and lace, and incorporating metal and leather accents, you can effortlessly transform your home into a captivating gothic sanctuary. Set the mood with an ambiance that reflects your dark and unique personality, and enjoy the mystical allure of the goth aesthetic in the comfort of your own space.
Frequently Asked Questions On Goth Home Decor
How To Decorate Your House In Gothic Style?
To decorate your house in Gothic style, start by incorporating dark colors, such as black and deep red, for the walls and furniture. Add ornate details like wrought iron fixtures, gothic arches, and stained glass windows. Emphasize dramatic lighting with candles or chandeliers.
Display macabre art and antique furniture for an eerie ambiance.
How Can I Make My Room Look Goth?
To make your room look goth, incorporate dark colors, such as black or deep purple, for the walls and furniture. Add gothic elements like ornate frames, velvet curtains, and antique furniture. Display spooky artwork or gothic-inspired posters. Use dim lighting and candles for an eerie ambiance.
What Is Gothic Style Decor?
Gothic style decor features dark colors, ornate designs, and intricate details to create a dramatic and mysterious atmosphere. It often includes elements like pointed arches, stained glass, and heavy furniture. This style is inspired by Gothic architecture and adds a touch of Victorian elegance to interior spaces.
What Is Modern Gothic Interior Design?
Modern gothic interior design combines contemporary elements with dark and dramatic gothic influences. It features bold colors, ornate details, and luxurious textures to create a sophisticated and moody ambiance. The design incorporates sleek furniture, metallic accents, and dramatic lighting to bring a modern twist to the traditional gothic aesthetic.
Conclusion
Goth home decor offers a unique and captivating way to express your personal style. By incorporating dark colors, intricate patterns, and gothic-inspired furniture and accessories, you can create a truly mesmerizing space. Whether you're a fan of the gothic aesthetic or simply looking to add some drama to your home, goth decor can transform any room into a stylish sanctuary.
Embrace the darkness and let your inner goth shine through your home decor choices.